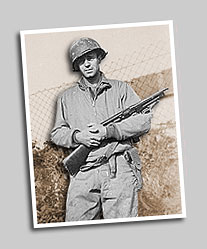 THERE IS AN EXCEPTION TO EVERY RULE. Normally prohibited from playing while on leave, fresh army recruit Murry Dickson returned to the Cardinals to pitch two-thirds of an inning in the 1943 World Series. "Pitching that game was one of my biggest thrills in baseball," said Dickson.

Back in the military and shipped off to Europe, Dickson survived D-Day and the Battle of the Bulge, met General Patton, and played baseball in the "Hermann Goering Stadium" in Koblenz, Germany.

Dickson shares his war experiences with this personal photo album.

---
Click below to view artifacts, photos,
and other related materials.
(Images will appear in a pop-up window)