THE RULES STAYED THE SAME. But different players played wartime baseball, in different places, sometimes for different fans, and certainly with different results.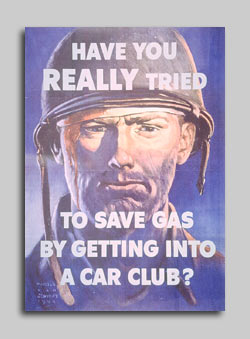 With many stars off to war, the baseball galaxy seemed less brilliant. The major leagues survived, but many minor leagues suspended their schedules.

Teams reduced travel, training in the North. Twilight and night games multiplied. Women starred in their own professional league. Record crowds watched Negro league games noted for outstanding players like Satchel Paige, Cool Papa Bell, and Josh Gibson. Stadiums dropped rules segregating fans by race, but Major League Baseball resisted integration on the field.

In 1944, the St. Louis Browns, their roster bulging with players classified 4-F, won their only American League pennant.

Observers of the major leagues often turned to humor to relieve frustration. One writer compared wartime baseball to watching the fat men play the tall men at the annual company picnic. Another said that he couldn't imagine either the Tigers or the Cubs winning a single 1945 World Series game.
---
Click below to view artifacts, photos,
and other related materials.
(Images will appear in a pop-up window)