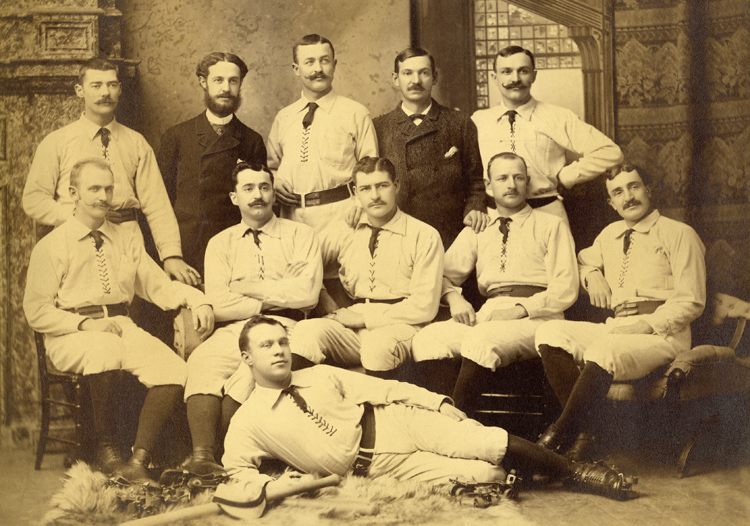 The Roll Players of Baseball
Baseball on roller skates? It sounds preposterous, but in the mid-1880s the unlikely combination of sports was a popular off-season pastime. Clubs (even leagues) formed in big league locales such as Chicago, Cleveland and Detroit, while organizations in minor league cities such as Rochester and Binghamton also took to the rink.
In 1885, Sporting Life, a popular sports weekly of the day, described the game as "exciting and funny – to the spectators. To the players it is bruising, exhilarating and acrobatic. The trick is to stand still, and no one can do the trick. Men fall when they throw the ball, fall when they make a catch or a pick-up, and fall when they want to stop on a base. Base ball on roller skates is therefore a game of falls."
Pictured here is the club that the Detroit Free Press billed as "the first professional ball players on rollers in the West." Playing in a league at the city's newly opened Princess Rink in the months prior to the 1885 regular season, the club featured a number of members of the old Detroit Wolverines of the National League, including catcher Charlie Bennett (middle row, third from left), pitcher Stump Wiedman (lying on floor), and Hall of Famer Ned Hanlon (middle row, second from left). In 1887, the trio of ballplayers was integral members of Detroit's first World Champions of baseball … on grass.
Previous | "Field of View" Home | Next