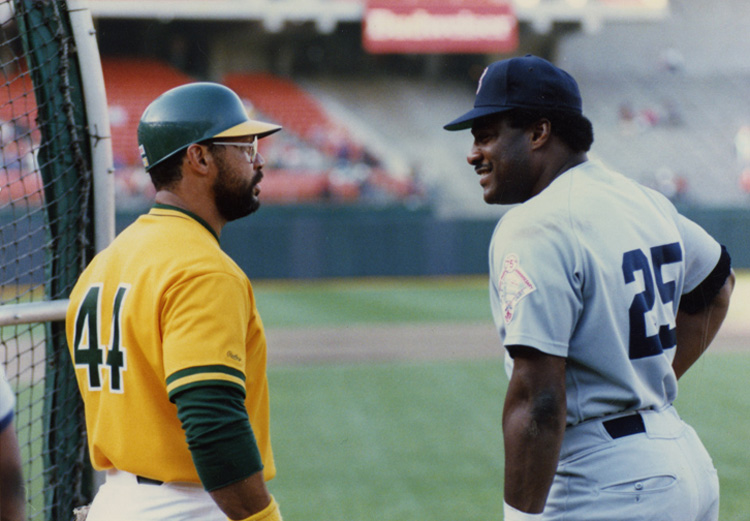 Power Ball
Renowned sluggers Reggie Jackson (left) and Don Baylor played against each other for almost two decades were essentially traded for each other in one of the most shocking trades of the era and even spent a season as teammates on a division-winning team.
In this image taken 26 years ago by longtime Topps baseball card photographer Doug McWilliams, Jackson, shown sporting the familiar home uniform of the Oakland A's, is seen chatting near the batting cage with Baylor, then of the Boston Red Sox.
For Jackson, nicknamed "Mr. October" for his postseason exploits, 1987 would prove to be his final season in an illustrious 21-year big league career. Baylor, who would retire one year later after 19 major league campaigns, finished with 338 homers, 285 stolen bases, and the 1979 American League MVP Award.
On April 2, 1976, the two Junior Circuit rivals would be the key figures in a six-player swap that had Baylor and pitchers Paul Mitchell and Mike Torrez traded by the Baltimore Orioles to the A's for Jackson, pitcher Ken Holtzman and minor league hurler Bill VanBommell.
"You hate to trade people like Baylor, Torrez and Mitchell," said Orioles manager and future Hall of Famer Earl Weaver at the time, "but when you're talking about getting a guy who might be the best player in the game, you have to be willing to give up some players you'd like to keep."
By 1982, Jackson and Baylor were teammates and major contributors on a California Angels team that would capture the American League West Division before ultimately falling to the Milwaukee Brewers in the ALCS.
Thanks to his 563 home runs and four World Series titles, Jackson would go on to be elected to the National Baseball Hall of Fame in 1993 by the Baseball Writers' Association of America in his first year of eligibility.
Previous | "Field of View" Home | Next