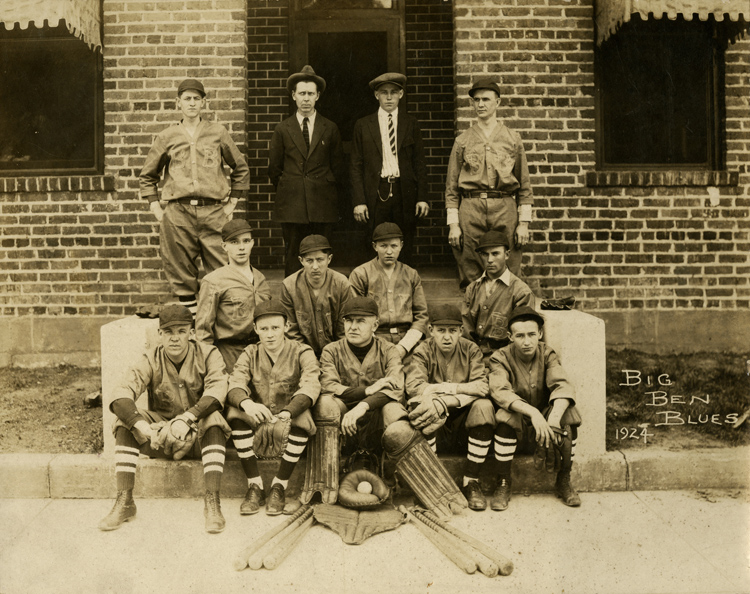 Big Ben Blues
The Big Ben Blues factory team of Middlesboro, Ky., wore unique uniforms fashioned specifically to reflect the company's product line: Denim overalls. This photograph depicts the newly-formed 1924 baseball club dressed in their blue denim uniforms, trimmed in green to reflect the factory's color scheme and lettered "BB" for the Big Ben Manufacturing Company. The "earnest" baseball players posed for the photographer on the steps of Big Ben's brick office building that adjoined their extensive factory.
Industrial baseball teams and leagues were common in textile mills throughout the South in the 1920s. Company-sponsored teams helped foster a sense of community among the players and their "enthusiastic bunch of rooters." Like many textile manufacturers, the company primarily employed women. Although none joined the team on the field, women mill workers turned out in the "hundreds" to cheer on the Big Ben nine as they took on other teams in the city and region.
A few years after the team was established, Big Ben claimed to be the largest exclusive manufacturers of overalls in the world, with five hundred employees at the Middlesboro plant. The firm later became part of Blue Bell Inc., which launched an innovative new product in 1947: Wrangler cowboy-cut jeans.
Previous | "Field of View" Home | Next