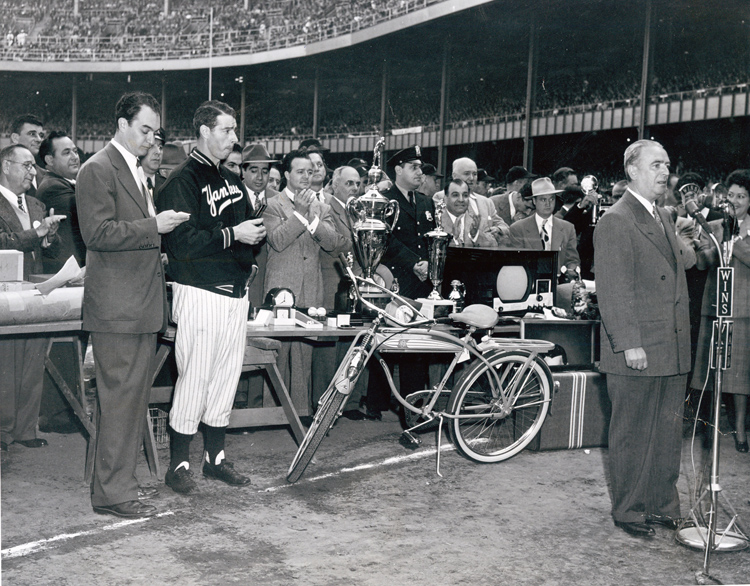 A Day for Joe
"I'd like to thank the Good Lord for making me a Yankee," said Joe DiMaggio to the sellout crowd. The occasion was "Joe DiMaggio Day," an event that honored one of the franchise's all-time greats some 65 years ago.

In this image taken on Saturday, Oct. 1, 1949, the 34-year-old "Yankee Clipper" was near the end of his 11th season manning center field for the Bronx Bombers. Prior to that day's important game against the rival Boston Red Sox, a one-hour ceremony before a Yankee Stadium crowd of 69,551 fans honored the future Hall of Famer.

Pictured, surrounded by gifts to Joltin' Joe, to the left foreground is longtime Yankees broadcaster Mel Allen, who served as master of ceremonies, standing to Allen's left is DiMaggio, and New York City Mayor William O'Dwyer is speaking into the microphone.

"It was America on parade at its Sunday best at Yankee Stadium as baseball fans in sardine-packed thousands paid tribute to the brilliant outfield star," wrote The New York Times.

DiMaggio's mother and son, Joe Jr., were in attendance, as well as brother Dom, an outfielder with the Red Sox.

"Engulfed in an avalanche of gifts and a wave of affection which rolled in from bleachers to boxes," was how the Sporting News described DiMaggio's day.

Among the varied gifts from around the country were a car for DiMaggio and one for his mother, a speedboat, three watches, two television sets, radio, deer rifle, hats, 300 quarts of ice cream, three hand-painted ties, traveling clock, three pictures, key chain, 25 record albums, electric blanket, two wallets, three sets of cufflinks, belt buckle, three tie pins, golf bag and dozen golf balls, ash tray, luggage, fishing tackle, a four-year college scholarship for a person of DiMaggio's choosing, taxi service, two thermos jugs, two pair of sunglasses, oil painting, living room carpet, electric roaster, three money clips, paper weight, metal elephant, set of rosary beads foam mattress and box spring, cheese, and cases of potatoes, oranges, lemonade and lima beans. DiMaggio's son, Joe Jr., received a bicycle, a train set, and a cocker spaniel.

"This is one of the few times I have choked up," DiMaggio would tell the crowd. "Many years ago Lefty O'Doul said, 'Joe, don't let the big town scare you. New York is the most generous town in the world.' This day proves that New York is the friendliest town in the world."

Cash gifts were estimated at $5,500, and O'Dwyer told the crowd that DiMaggio insisted all money gifts be turned over to the New York Heart Fund and the Damon Runyon Memorial Cancer Fund. Three weeks later, DiMaggio turned over two checks each for $2,738.69.

"How well we all knew that you would not accept any of the money donated by the fans, and would give it to the Heart and Cancer funds," said O'Dwyer in his tribute to DiMaggio that day. "You came here from San Francisco. After today, you will never leave New York."

The Red Sox, who were lined up near the plate during the ceremonies and gave DiMaggio a plaque with the name of each Boston player inscribed on it, would lose the day's game, 5-4, to New York on the second-to-last day of the regular season. The win drew New York even with the Red Sox, led by former Yankees manager Joe McCarthy, each team with a 96-57 record.

DiMaggio, who was sick in bed with pneumonia three day before the game, having been bed-ridden for almost two weeks, batted cleanup and collected two hits in four at bats, including a ground rule double leading off the bottom of the fourth inning to start a two-run rally that helped the Yankees come back from a 4-0 deficit.

The next day, the Yankees would clinch the American League pennant with a 5-3 win over Boston. A week later, New York would win the World Series in five games over the Brooklyn Dodgers, the team's first of five consecutive Fall Classic crowns.
Previous | "Field of View" Home | Next