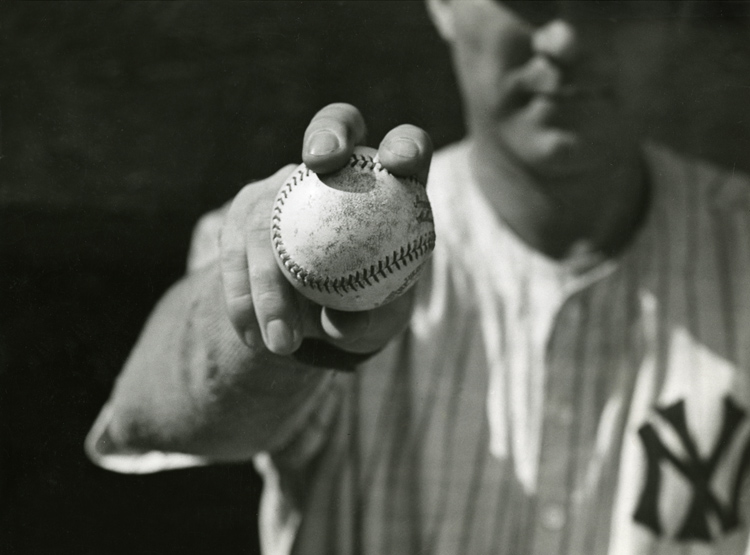 Red's got the grip
"You spend a good piece of your life gripping a baseball and in the end it turns out that it was the other way around all the time," is the last line from author and former New York Yankees pitching great Jim Bouton's 1970 classic Ball Four.

Another former hurler who starred in the Bronx used the grip pictured here to post more than two decades of mound success.

Charles Herbert Ruffing was a legendary pitcher with the Yankees throughout the 1930s and early '40s. Sporting the home pinstripes, "Red" is demonstrating, circa 1938, his four-seam fastball grip, a pitch that would eventually place him among the game's greatest in the Baseball Hall of Fame in 1967.

According to Ruffing, he found his fastball to be far and away his most effective pitch. It was said of the fireballer that he threw a two-speed ball: Fast and a little faster.

"The best day I ever had with a fastball was two years ago against Washington," Ruffing said in a 1934 interview. "I beat the Senators 1-0 in 10 innings, hitting a home run in the 10th to win the game. I struck out 10 during the game and only one on a called third strike. The other nine took their cut at the fast one and missed.

"During that game, I doubt that I threw over three curveballs. My control was good that day, as it has to be for a fastball pitcher to be effective. The ball never hopped until just before it reached the plate."

Ruffing had a 22-season big league career, including 15 with the Yankees, finishing with an overall record of 273-225. He did not emerge as a star until he was acquired in a trade by the Yankees during the 1930 season, eventually establishing the franchise record for wins by a right-hander with 231 while losing only 124.

Of his longtime catcher with the Yankees, Bill Dickey, Ruffing said, "Bill and I never had any signs. I just told him to watch out for the fastball. Even in the (World) Series games I never used signs. Dickey used to flash them, but I never paid attention."

Ruffing is the only pitcher in franchise history to compile four consecutive 20-win seasons, from 1936 to 1939, when he led the Yankees to four straight World Series titles. Overall, he helped the Yankees win seven pennants and six World Series.

"There was something special about wearing the pinstripes of the New York Yankees," Ruffing said years after he retired from the game. "Maybe it was the way you walked, ate and dressed."

Ruffing passed away in 1986 at the age of 80.

This image of Ruffing, captured by photographer William C. Greene, is one of more than 50 that are featured in the Hall of Fame's newest exhibit, Picturing America's Pastime.
Previous | "Field of View" Home | Next