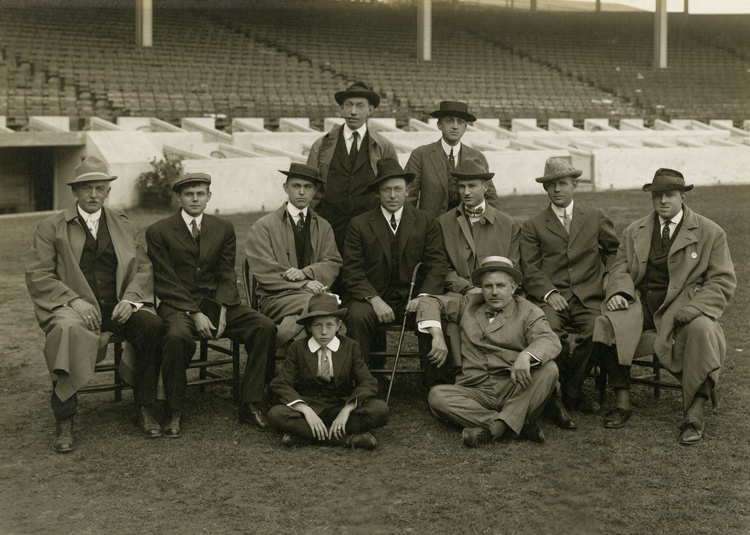 City Scribes
For the first half of the 20th Century, three of big league baseball's 16 teams – the New York Giants, New York Yankees and Brooklyn Dodgers – called the New York City area home. At the time this image was captured in 1911 – showing the top New York baseball writers at the time posing at the Polo Grounds, home field of the Giants – there were more than a dozen daily newspapers chronicling the exploits of the three squads.
Pictured in this image, credited to the famed Pach Brothers photography studio, are (standing, left to right) John Wheeler (Herald) and John B. Foster (Evening Telegram); (seated in chairs) Sam Crane (Journal), Fred Lieb (Press), Damon Runyon (American), Bozeman Bulger (Evening World), Sid Mercer (Globe), Grantland Rice (Evening Mail) and Walter Trumbull (World). Seated on the ground is concessionaire Harry M. Stevens (right) and son Hal.
Among those pictured who would go on to capture the J.G. Taylor Spink Award, which is awarded annually by the Baseball Writers' Association of America to honor a baseball writer "for meritorious contributions to baseball writing" and is presented during Hall of Fame Weekend, are Rice (1966), Runyon (1967), Mercer (1969) and Lieb (1972).
Previous | "Field of View" Home | Next