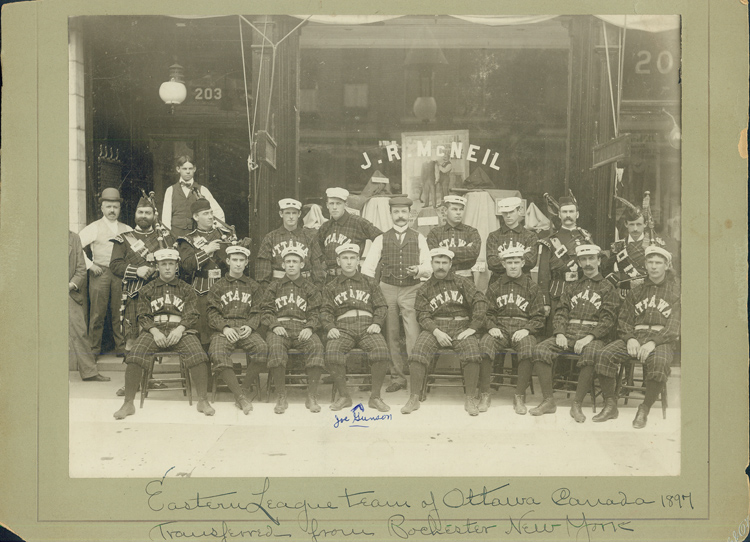 Ottawa Tartan
When the Rochester Patriots of the Eastern League met with financial troubles in the middle of the 1898 season, the ball club transferred to new digs in Ottawa, Ontario. It was the first minor league club to represent Canada's capital city and, for a few months, the team was the pride of Ottawa. But the club failed to stick, and it would be over a dozen years before another minor league franchise would return.
This photograph, the only known image of the short-lived club, was taken outside J.R. McNeil's tailor shop at 203 Sparks Street, just a stone's throw from Parliament Hill. At center is James McNeil, the very tailor who outfitted the club with their one-of-a-kind tartan uniforms. The pattern they wore (the same as that seen on the tailor's vest) is none other than the green, blue and red design of the McNeil family tartan.
A few prominent players were featured on Ottawa's ball club. As noted in ink by a previous owner of the photograph, Joe Gunson sits in the front row, fourth from left. Gunson, whose baseball career included just a handful of seasons in the big leagues, is often credited as the originator of the catcher's mitt and his 1888 invention is in the collection of the Hall of Fame. Directly behind Gunson is Mike Kelley, a decent pro ballplayer who should not to be confused with Hall of Famer Mike "King" Kelly. Kelley ultimately became a legend in the Minneapolis-St. Paul area as the longtime manager and owner of minor league clubs in both of the Twin Cities.
Previous | "Field of View" Home | Next