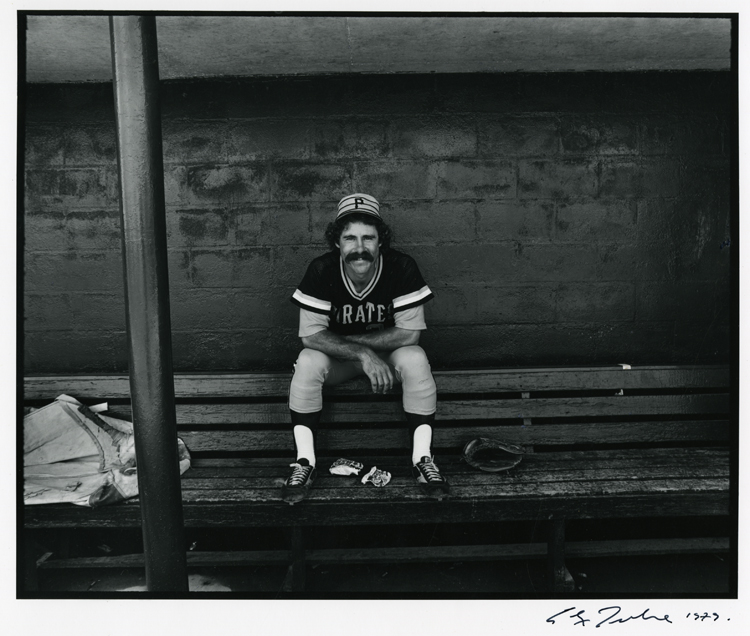 Recycling Scrap Iron
Pittsburgh's Phil Garner had more reasons than he knew to look happy in this 1979 Spring Training photograph. Believing this could be the year the Pirates made the postseason, Garner reported early to Pittsburgh's Spring Training home in Bradenton, Florida. "I got sick watching us play last year," he said. "I'm not pointing any fingers because I was worse than anyone else. We have to think of winning down here from Game One. We have to get our attitudes in shape."
The Pirates not only got their attitudes in shape, they conjured up an extraordinary karma that carried them all the way to the World Series. Photographer Alex Traube, whose late-1970s Spring Training portfolio includes this image of Garner, recalled that "the Pirates were the most fun, by far, of all the teams to be around." With Dave Parker's power, Willie Stargell's stars (which Willie gave to teammates for exceptional play), and the strains of Sister Sledge's "We Are Family" reverberating in the clubhouse and around the ballpark, the Pirates won the NL East and swept Cincinnati to take the pennant.
And Garner? He boosted his batting average that year by more than 30 points to a career high of .293. Then in the World Series, the infielder nicknamed "Scrap Iron" continued his hot streak, hitting a remarkable .500 (12-for-24) with three walks and five RBI to help lift Pittsburgh over the Baltimore Orioles in seven games.
However, that was all in the future. In early March, all anyone could know was what we can see in this image. In his portrait of Garner, photographer Traube has captured the joy of Spring Training, when everything is green and fresh, and when anything is possible, including a personal record or a World Series championship.
Previous | "Field of View" Home | Next