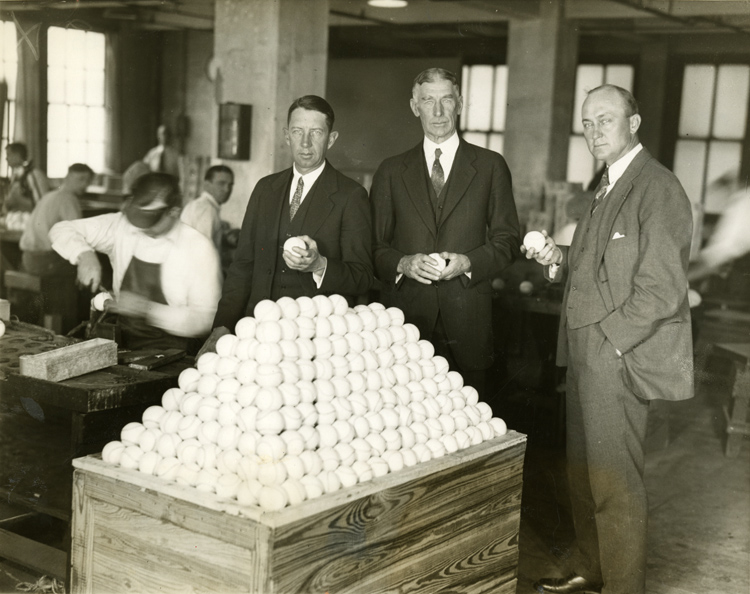 Arm's Reach
The A.J. Reach Co. sporting goods factory on Tulip Street in the Fishtown neighborhood of Philadelphia manufactured about three million baseballs in 1927. Founded by Albert J. Reach in 1874, the firm grew into one of the largest producers of sports equipment in the United States by the turn of the century. In addition to 20 different types of baseballs, the company made catcher's masks, mitts and chest protectors; fielder's and boxing gloves; punching bags; and footballs.
Considered one of the most skilled players of baseball's post-Civil War boom era, Reach played and managed for the Philadelphia Athletics from 1865 to 1875, and was one of the first baseball players to receive a salary for taking the field. The success of his thriving sporting goods business enabled him to establish the Philadelphia Phillies franchise in 1883. He remained a co-owner and president for the next two decades. He built a new stadium in Philadelphia - twice; first constructing a wooden structure, then rebuilding in steel after a fire consumed the original grandstand. Publisher of one of baseball's leading annuals, his firm issued Reach's Official Base Ball Guide from 1883 to 1939, providing baseball fans with statistics and accounts of the season.
Reach baseballs became the official ball of the newly-formed American League in 1901, and the company continued to produce the league's balls until 1974. In this 1927 photograph, three members of the Philadelphia Athletics team tour Reach's factory. Future Hall of Famers Eddie Collins (second baseman), Connie Mack (owner and manager), and Ty Cobb (outfielder) gather around a mountain of newly-stitched balls in one of the factory's sewing rooms.
The worker to Collins' right is using cotton thread to stitch pieces of horsehide leather over the ball's core. Balls manufactured for use in professional baseball had to adhere to higher quality standards, were made with better materials, and were sewn by skilled male laborers in the factory. Balls for the amateur market, "old bouncers," were often sent out as piecework, providing women and children in the community with extra income.
Previous | "Field of View" Home | Next