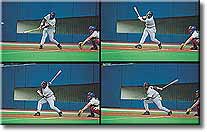 Tony Gwynn collects his
3,000th career hit
Friday, August 6, 1999 — San Diego at Montréal. Top of the first inning. The Padres' Quilvio Veras on first base. No outs. Tony Gwynn at bat. 1-2 count. Montréal catcher Chris Widger called for a curve and rookie pitcher Dan Smith delivered. But the pitch never touched Widger's mitt. Gwynn stroked the ball cleanly up the middle for his 3,000th career hit and a place in the record books.
To learn more about the San Diego Padres and Tony Gwynn, visit the San Diego Padres Web site.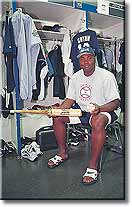 Tony Gwynn in the club-
house with artifacts from
his 3,000th career hit
The historic single meant that Gwynn's name would be etched alongside the names of other members of the elite 3,000-Hit Club—legends from the past such as Honus Wagner, Ty Cobb, and Eddie Collins; all-time greats such as Stan Musial, Willie Mays, and Roberto Clemente; and more recent players such as Pete Rose, Lou Brock, and Dave Winfield.
You can learn more about the elite group of ballplayers who have reached the 3,000-hit milestone by visiting our online exhibit: The 3,000-Hit Club.
Prior to milestone achievements such as Tony Gwynn's 3,000th hit, the Hall of Fame first makes contact with the player's team. The Hall conveys its interest in artifacts from the upcoming achievement and the club then relays this information to the player. It is the ballplayer who ultimately makes the call as to which (if any) artifacts he wishes to donate to the Hall of Fame. Throughout the Hall of Fame's history, ballplayers have been extremely generous with artifact donations. In the case of unforeseeable historic occurrences (no-hitters, triple plays, etc.) the Hall of Fame contacts the club immediately following the event.
Museum Bound | Online Exhibits
National Baseball Hall of Fame and Museum