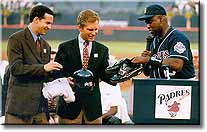 Tony Gwynn hands artifacts from his
3,000th hit to Hall of Fame President
Dale Petroskey (center) and Hall of
Fame Vice President Jeff Idelson (left)
Friday, August 13, 1999 — One week after Tony Gwynn collected his 3,000th big league hit, the Padres staged "Tony Gwynn Night" at Qualcomm Stadium in San Diego. Friday the 13th was a lucky evening for the National Baseball Hall of Fame and Museum, as Tony Gwynn generously donated artifacts from his historic hit to the legendary shrine in Cooperstown. Hall of Fame President Dale Petroskey and Vice President Jeff Idelson were present at the on-field ceremonies and received the helmet, cleats, pants, and bat that Tony used to record hit #3,000.
Just hours after the presentation, the artifacts were carefully escorted to the San Diego Airport and made their way to Cooperstown.
Museum Bound | Online Exhibits
National Baseball Hall of Fame and Museum