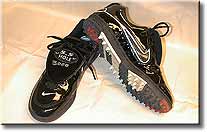 The cleats worn by Tony Gwynn when
he collected his 3,000th career hit
Monday, August 16, 1999 — Tony Gwynn's cleats are accessioned next. The accession number is written on an acid-free paper label and attached to the shoe with string. The cleats are considered one artifact and so they are issued a single accession number. However, since there are two separate parts to the artifact (a left shoe and a right shoe), each is given its own accession label: label "a" and label "b."
After each cleat is labeled, information regarding the cleats is entered on the accession form. For instance, Tony Gwynn wrote the number "3000" on the tongue of each his cleats in recognition of his historic accomplishment. This is noted on the accession form.
Tony Gwynn's size 11 cleats have the rather cryptic phrase "5.5 Hole" embroidered on the extended shoe tongue. The meaning of the phrase is revealed when one considers that many of Tony Gwynn's base hits go directly in between the third baseman and the shortstop. When scoring a ballgame, the third baseman is denoted with the number "5" and the shortstop is denoted with a "6." Thus, the "hole" halfway between the two positions is 5½, or 5.5.

Writing the cleats' accession
number on paper tags

Attaching the labels to the cleats

Taking notes on the accession form
As part of the accessioning process, each artifact is photographed. Larger versions of the accession number labels are placed in front of the artifacts to allow for easy identification. These photographs serve as a useful record of the artifacts, allowing the curatorial staff to quickly view an object without having to physically access it, thus eliminating unnecessary handling. The photograph also proves useful as a record of the artifact's condition upon accessioning.
Museum Bound | Online Exhibits
National Baseball Hall of Fame and Museum