Painting the underside of the bill
of Tony Gwynn's batting helmet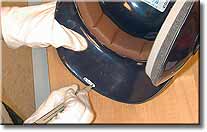 Writing the accession number
on the underside of the bill
of the batting helmet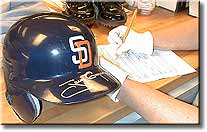 Making notes on the
accession form
Monday, August 16, 1999 — The next artifact to be accessioned is the batting helmet that Tony Gwynn wore when he reached the 3,000-hit plateau. As was the case with the baseball bat, the accession number for the helmet will be written on a white acrylic paint background. The background paint is applied to the underside of the bill of the helmet so as to be easily accessible for future reference and yet remain unseen when placed on display. After the acrylic paint dries, the helmet's accession number is written on the white background.
Once again, the accession form is completed with information about the helmet. For example, it is recorded that the helmet is signed on the bill by Tony Gwynn. Also, the size of the helmet is 7 1/8.
Note that staff members always wear white, cotton gloves when handling the artifacts. These gloves are used for a number of reasons. First, the gloves have no abrasive surfaces and thus minimize the possibility of the artifact being scratched. Second, the gloves help prevent the transfer of harmful salts and oils from the skin to the artifact. These contaminants may chemically react with the artifact and thus cause the object to deteriorate. Third, by handling artifacts with the gloves, unsightly fingerprints are avoided.
Museum Bound | Online Exhibits
National Baseball Hall of Fame and Museum