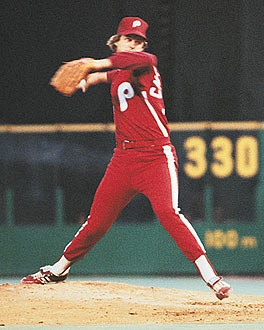 Philadelphia Phillies pitcher Larry Christenson, May 19, 1979
(Courtesy of the Philadelphia Phillies)
In May of 1979, the Philadelphia Phillies announced they would wear all-burgundy uniforms for their Saturday home games. They first took the field in the brightly colored outfits in a game against Montreal on May 19. Staked to a 4-0 lead after four innings, starting pitcher Larry Christenson collapsed in the fifth and the Phillies eventually lost to the Expos, 10-5. The uniforms were never worn again.
Meanwhile …
On November 4, 1979, militant Iranian students took over the United States Embassy in Tehran, Iran, taking numerous hostages. On January 20, 1981, after 444 days of captivity, the crisis ended as 52 American hostages were released. During captivity, the hostages were deprived of most news from the outside world. One luxury, however, was The Sporting News, which was sent to the hostages weekly, allowing the baseball fans among them to keep up with the season. A former hostage, Sgt. Kevin Hermening, was invited to throw out the opening pitch in 1981 for his favorite team, the Milwaukee Brewers.