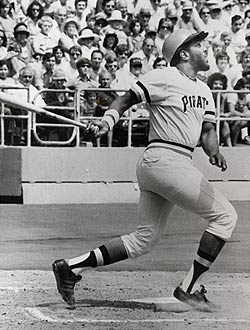 Willie Stargell in the double-knit uniform
first unveiled by the Pirates in mid-season of 1970
When the Pittsburgh Pirates moved from Forbes Field to Three Rivers Stadium in the middle of the 1970 baseball season, the club adopted brand new uniforms. The Pirates' new outfits were made of a blend of cotton and nylon, and featured pull-over buttonless jerseys with beltless pants … all ground-breaking innovations for big league baseball. The bold changes proved quite a success, with nearly every major league club soon following suit. The new look for the major leagues lasted until 1993, when the Cincinnati Reds became the last team to abandon pullover jerseys and beltless pants.