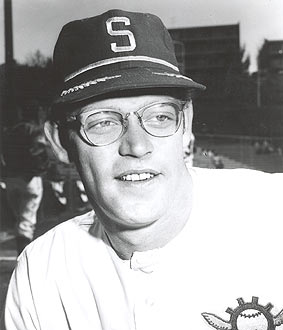 Seattle Pilots pitcher Gene Brabender, 1969
Though the Seattle Pilots were a financial failure, lasting but one season, their uniform cap was a classic. Following the innovative lead of the 1961 Los Angeles Angels and their halo-cap design, Seattle incorporated an ingenious graphic element on the bill of their caps: two golden braids (sometimes referred to as "scrambled eggs") similar to those worn on the hats of U.S. Navy officers and commercial airline captains. When the club moved to Milwaukee just prior to the 1970 season, the team was renamed and the creative cap design abandoned.
Meanwhile …
On July 20, 1969, Neil Armstrong became the first man to walk on the surface of the moon. The historic event was the culmination of the Apollo Manned Space Program, headquartered in Houston, Texas. The space program was so successful and popular that prior to the 1965 season, the Houston Colt .45s changed their nickname to the Astros and named their new indoor ballpark the Astrodome.