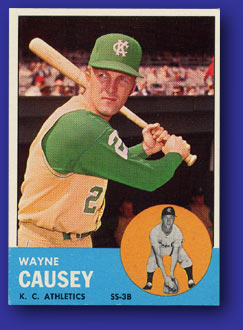 A Topps baseball card of Kansas City Athletics
shortstop Wayne Causey, 1963
(Use of image courtesy of The Topps Company, Inc.)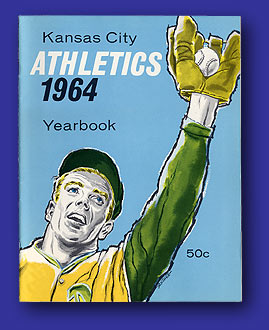 The new gold and Kelly green uniform of the
Athletics adorns the cover of the club's 1964 yearbook.

In an effort to quite literally make the game more colorful, Kansas City Athletics owner Charlie Finley dressed his club in gold and Kelly green uniforms. Over the next quarter of a century, the A's experimented with mix-and-match uniforms, sometimes wearing green jerseys with white pants, yellow jerseys with yellow pants, or green jerseys with green pants. No combination was too wild or too outrageous. With color television gaining popularity in the 1960s, other clubs soon followed Finley's lead, introducing non-traditional hues to the baseball uniform.
Meanwhile …
In 1963, while baseball made a significant step in adding color to their uniforms, the civil rights movement made a significant step in removing color as a barrier to enrollment at the University of Alabama. On June 11, 1963, Alabama Governor George Wallace made his famed "stand in the schoolhouse door," an attempt to bar the Tuscaloosa school's desegregation. Ultimately, Wallace stepped aside as the Alabama National Guard, federalized by President John Kennedy, facilitated the enrollment of two black students: James Hood and Vivian Malone.