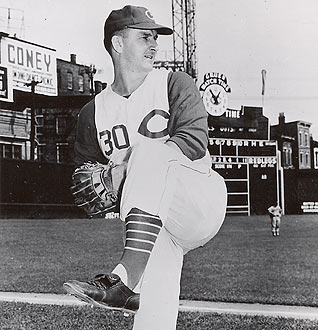 Cincinnati Reds pitcher Hersh Freeman, 1956
The anti-Communist fervor of the 1950s resulted in numerous social conformist reactions. A face powder called "Russian Sable" was renamed "Dark Dark," and libraries in Indiana were pressured by anti-communists to remove Robin Hood, with its lenient view of "spreading the wealth," from their bookshelves. In 1954, the Cincinnati Reds changed their club nickname to "Redlegs," and by 1956 the word "Reds" was completely absent from the team's uniform. That season marked the first time since 1912 that Cincinnati's home uniform failed to feature the team's nickname. By 1961, with the era of McCarthyism over, the club's original nickname and its use on the team uniform were re-established.
Meanwhile …
On October 4, 1957, the Soviet Union successfully launched Sputnik I, the first artificial satellite. Early the next year, the U.S. countered with its first satellite, Explorer I. The space age had arrived. Today, thousands of man-made satellites orbit the earth, many of which transmit television signals around the globe, including broadcasts of baseball games.