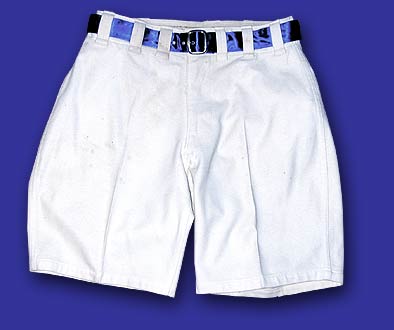 Short pants from a Pacific Coast League Hollywood Stars uniform, 1950
In 1950, the Pacific Coast League Hollywood Stars (a farm club in the Brooklyn Dodgers' system) unveiled one of the most radical alterations to the baseball uniform. In an effort to aid the speed and comfort of its players, the Stars took the field wearing shorts. Other clubs in the Brooklyn system soon followed suit, and by mid-season numerous teams were wearing the abbreviated pants. Though the experiment ultimately failed to catch on, the Chicago White Sox briefly revived the concept in 1976.
Meanwhile …
In 1950, the United States first committed troops to the war in Korea. Two years later, Boston Red Sox star left fielder Ted Williams, a veteran of World War II, was called up from the inactive reserves. By 1953, Williams was flying combat missions in Korea for the United States Marines. Though Williams had a stellar major league career, he lost close to five prime years in the big leagues due to service in World War II and the Korean War.