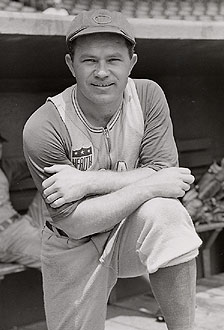 Chicago Cubs left fielder Lou Novikoff, 1942
During the baseball seasons of World War II, most major league uniform jerseys bore a special patriotic patch in the shape of a shield. Many clubs throughout minor league baseball and the Negro leagues also wore these patches. In 1942, the insignia of the "Hale America" Fitness Campaign was worn on the left sleeve of every big league uniform except for those worn by the Chicago Cubs. Since the Cubs wore sleeveless jerseys at the time, they donned the patriotic patch on the right breast of their vests. From 1943 to 1945, most big league clubs wore a similar patch (with vertical, red stripes instead of letters) in support of the U.S. war effort.
Meanwhile …
On December 7, 1941, Japanese planes attacked the U.S. Naval Base at Pearl Harbor, Hawaii, thrusting the United States into World War II. Less than six weeks later, Baseball Commissioner Kenesaw M. Landis wrote to President Roosevelt asking him "whether professional baseball should continue to operate." Roosevelt's answer: "I honestly feel that it would be best for the country to keep baseball going." Though hundreds of ballplayers saw active duty during the war, the game went on, providing welcome entertainment, a boost to morale, and a sense of normalcy to a nation engaged in an historic battle.