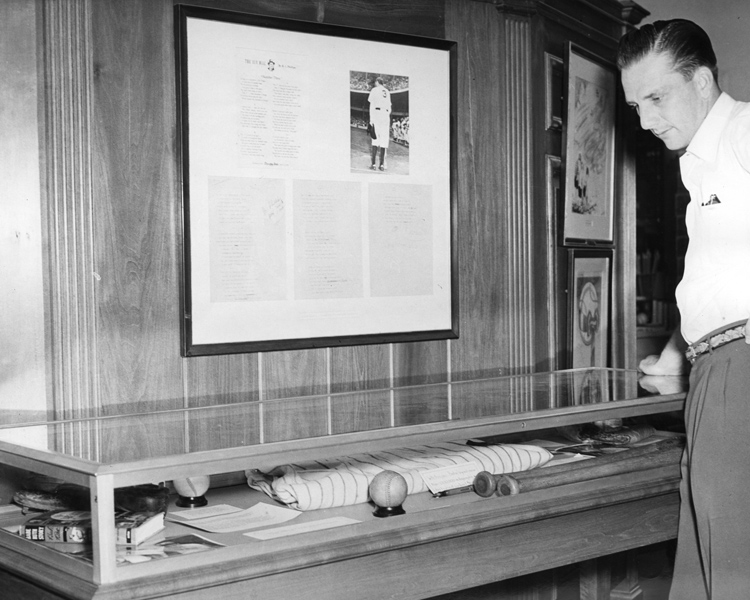 Kiner's Corner of Cooperstown
Ralph Kiner was in the midst of perhaps his greatest season when he and his Pittsburgh Pirates teammates made a trek to Cooperstown to play an exhibition. While in the quaint Upstate New York village, he made time to look at artifacts from a fellow slugger who had passed away less that a year before.
In this image taken almost 65 years ago and credited to the Hollis Studio in Cooperstown, the 26-year-old Kiner, in his fourth big league season, is shown gazing at the Babe Ruth exhibit at the National Baseball Hall of Fame and Museum. That same day, Kiner's Pirates were defeated by the Washington Senators, 8-7, in the eighth annual Hall of Fame Game, held June 13, 1949, before an estimated crowd of 6,500 fans at Doubleday Field.
While Kiner, who had homered for the 14th time that season the previous day in a 6-5 win over the New York Giants at the Polo Grounds, did not send a ball over the fence in Cooperstown, teammates Wally Westlake, Dixie Walker and Eddie Bockman did. Kiner, playing left field, went 1-for-2 at the plate with a run batted in.
Earlier that morning, the annual Induction Ceremony took place on Main Street in front of the Hall of Fame where bronze plaques were unveiled for Mordecai (Three Finger) Brown, Kid Nichols, Herb Pennock, Charlie Gehringer and Pie Traynor. Part of the ceremony included the presentation of a number of Ruth artifacts by the great player's estate.
Kiner would go on to club a career-high 54 homers in 1949 while in the middle of a seven-year stretch (1946-52) in which he topped the National League in the category.
"These homers go in streaks and I seem to be in a hot streak now," Kiner said in September 1949. "I think I'll crack the 51 mark I set in 1947 but I'm not talking about breaking the Babe's mark this year. I'm just trying to meet that ball good. If it's a hit, that's swell. If I get a homer, that's wonderful.
"Sure, I want to break that 51 mark. That'll be a good talking point when contract time comes around." added the man credited with the famous quote, "Singles hitters ride in Fords, home run hitters in Cadillacs."
Up to the point of his appearance in the Hall of Fame Game, Kiner had smacked 128 career round-trippers on the way to a total of 369 when he retired in 1955. He would be inducted into the Hall of Fame in 1975.
Previous | "Field of View" Home | Next