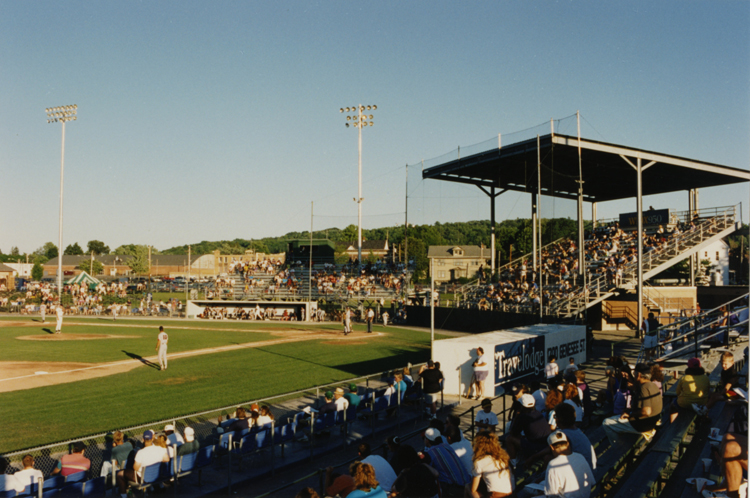 Minor Leagues, Major League Beauty
Hot dogs, ice cold beer, peanuts and Cracker Jack. The crack of the bat on a warm summer night and little kids running under the bleachers. Contests at home plate to send one lucky fan home with a free car wash or large cheese pizza, and lots of free foul balls. These things evoke images of minor league baseball in small cities and towns all across the United States, minor league baseball like it was played for decades in New York State's 10th largest city.
Utica, New York - about 45 minutes northwest of the Baseball Hall of Fame in Cooperstown - has a rich history of baseball. Beginning in 1944 with the Philadelphia Phillies, Utica has also been home to minor league franchises of the Boston Red Sox, Chicago White Sox and Florida Marlins.
The city's last professional team, the New York-Penn League's Utica Blue Sox, departed after the 2001 season, for Aberdeen, Md., when the team was purchased by Hall of Fame shortstop Cal Ripken Jr. Today, Donovan Stadium at Murnane Field in Utica is home a variety of area colleges, American Legion teams and other leagues.
Many future major league superstars have taken the field for the Blue Sox including Richie Ashburn, Larry Walker, Mike Cameron, Ray Durham, Adrian Gonzalez and Josh Willingham. And, in 2000, seventeen year old Miguel Cabrera manned the hot corner for the Blue Sox, a Marlins affiliate at the time.
This photo shows Murnane Field shows a game on July 30, 1995, the same day Mike Schmidt, Richie Ashburn, Leon Day, William Hulbertand Vic Willis were enshrined at the Baseball Hall of Fame.
Previous | "Field of View" Home | Next