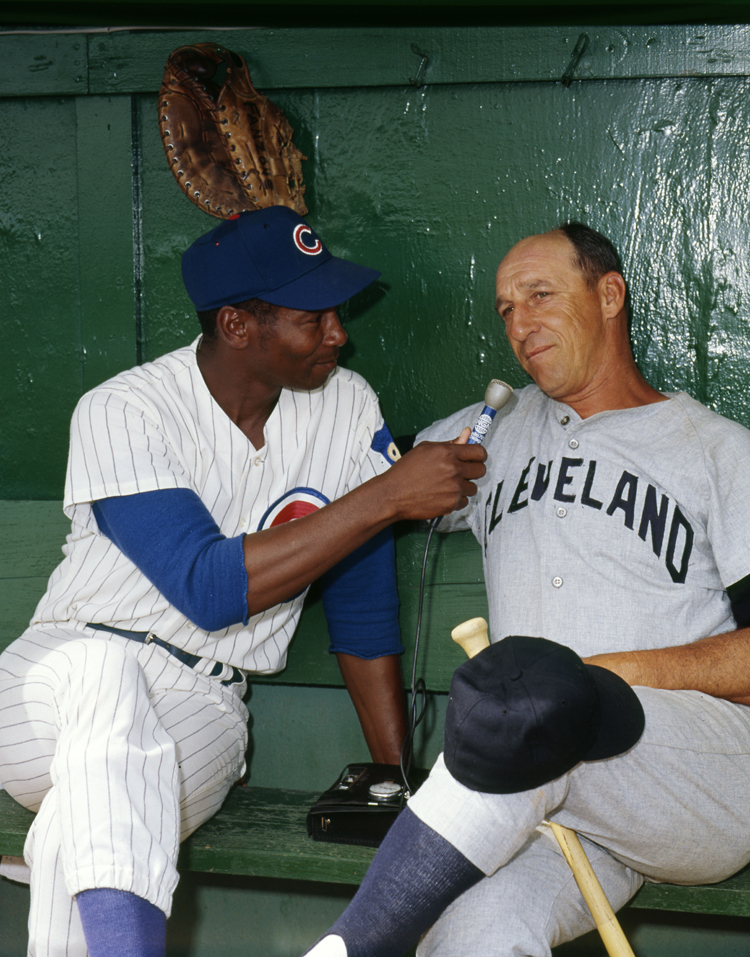 Legendary Interview
Two longtime National League opponents, Ernie Banks (left) and Warren Spahn, dominated the 1950s and '60s with performances that would ultimately find them enshrined in Cooperstown.
In this image taken 40 years ago by Topps baseball card photographer Doug McWilliams during spring training in Scottsdale, Ariz. Banks, the former slugging shortstop/first baseman with the Chicago Cubs and then serving as the team's first base coach, is pretending to interview Spahn - whose 363 victories make him the winningest southpaw in big league history - then the pitching coach for the Cleveland Indians.
While 1973 would turn out to be each of their final seasons as a big league coach, a season highlight would occur when Spahn was elected to the National Baseball Hall of Fame. Banks would receive a bronze plaque in 1977.
In 2008, the Cubs unveiled a 300-pound steel, wood, fiberglass and bronze statue of Banks outside Wrigley Field. The sculptor's inspiration? A Banks' grand slam at-bat against Spahn on Aug. 29, 1959.
In fact, only six pitchers faced Mr. Cub more often than Spahn. At the conclusion of the pair's long rivalry, Banks had a .232 batting average with six home runs and 20 RBI in 112 at bats versus the lefty.
Previous | "Field of View" Home | Next