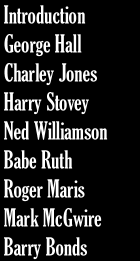 he first year in which Ruth's home run crown was genuinely threatened by someone other than himself was 1927. The fellow slugger was none other than Ruth's Yankee teammate, Lou Gehrig. As late as mid-August, Gehrig was leading the Babe in the home run race. But as the dog days of summer took their toll on Gehrig's long-ball pace, Ruth's final months were full of circuit clouts. With four games left in the season, the Babe was sitting on home run number 56 … it appeared as though his home run record of 1921 would last yet another season. But when Ruth clouted three homers over the next two games (a pair of the blasts were grand slams), the Bambino was poised on the brink of a new single-season home run record.

On September 30th, in the second to last game of the season, New York and Washington were tied 2-2 as the Yankees came to bat in the bottom of the eighth. With Yankee Mark Koenig on third, Ruth stepped in against Washington's southpaw hurler, Tom Zachary. Ruth sent a drive into the right field stands, putting the Yanks ahead by two and setting a new standard with 60 home runs in a single season. In what would be his final major league appearance, Hall-of-Famer Walter Johnson pinch-hit for Zachary in the bottom of the ninth, but the future Hall-of-Famer failed to reach base and the Yankees garnered their 109th victory of 1927. The next day, while the Yanks won the final game of their much-celebrated season of 1927, Ruth was held homerless and thus the single-season mark remained at 60.