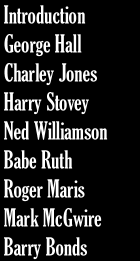 he 1921 season was the third in a row in which Babe Ruth set a new single-season home run record. In mid-July, Babe Ruth surpassed Roger Connor's record of most career home runs (138) to become the undisputed King of Swat. On September 15th, the Babe eclipsed his 1920 home run record by hitting his 55th circuit clout of the season.

In the Yankees final game of the regular season, the Yankees hosted Ruth's old club, the Red Sox. Babe's three-run homer in the bottom of the third brought his home run total to 59 for the season and gave the Yanks a 5-0 lead. The Red Sox fought back and eventually jumped ahead, 6-5, but the Yankees scored twice in the bottom of the ninth to gain a 7-6 victory.

Though baseball's Commissioner, Judge Kenesaw Mountain Landis, had expressly forbid post-season tours by members of World Series teams, Yankee teammates Ruth and Bob Meusel ignored the decree and, following the 1921 October Classic, barnstormed around the country. Landis levied a heavy fine on the pair of Yankees and suspended them for the first month of the 1922 season. Landis thus assured that Ruth's single season home run record would be safe for at least a year … safe even from Ruth himself. Ruth's mammoth season of 1921 included league-leading totals of 59 home runs, 457 total bases, 177 runs scored, 171 RBIs, 144 walks, a .512 on-base percentage, and an .846 slugging average. His 44 doubles placed second in the league while his .378 batting average was third.