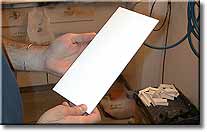 The blank Sintra® board
before being painted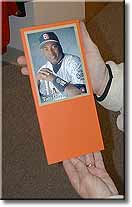 The painted board
with an attached photo
of Tony Gwynn
Monday, August 16, 1999 — While Tony Gwynn's artifacts are being accessioned, the Museum's curatorial staff researches his milestone achievement. Text explaining the significance of the artifacts is prepared and will appear on labels that will accompany the items when they are placed on display.
The curatorial staff sends the text of the labels to the exhibit technicians, who will physically create the labels. The first step in this process is to cut an appropriately sized piece of Sintra®, a lightweight, yet durable board made of rigid polyvinyl chloride (PVC), ideal for use as an exhibit label.
The Sintra® board is painted orange to match the color of other labels in the "Highlights of 1999" exhibit, where the Gwynn artifacts will be placed on display. After the paint has dried, a photo of Tony Gwynn is glued to the surface of the board. Next, by way of a complex photographic process utilizing a metal halide vacuum exposure unit, the label text is placed on a transfer sheet. The text, now in the form of white lettering, will eventually be transferred to the painted board. This process is known as a dry transfer and is most familiar to the lay person in the form of Letraset.

Cutting the text of the label
from the transfer sheet

Aligning and transferring the text
from the transfer sheet
to the painted board

Peeling the transfer sheet
away from the painted board
The transfer sheet often contains the text for various labels, so the appropriate section is cut from the sheet and aligned on the painted board. Next, the exhibit technician carefully transfers the text to the board by firmly scratching the reverse side of the transfer sheet. If this process is not done correctly, the text may fail to properly adhere to the board or visible cracks in the text may occur.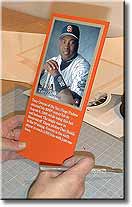 The finished label
When the exhibit technician has completed transferring the text to the board, the blank transfer sheet is then peeled away revealing the finished label. This particular label reads:
Tony Gwynn of the San Diego Padres attained his 3000th career hit on August 6, 1999, while using this bat and helmet. The single came in Montréal off Expos pitcher Dan Smith in the 1st inning. Gwynn is the sixth player to reach 3,000 hits with just one team.
By the same process, a second label will be made describing Tony Gwynn's cleats.

Museum Bound | Online Exhibits
National Baseball Hall of Fame and Museum