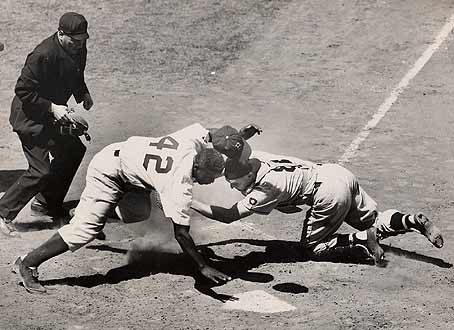 Brooklyn Dodgers second baseman Jackie Robinson avoids a tag at home, 1951
(Courtesy of the New York Times)
On April 15, 1997, exactly 50 years after Jackie Robinson broke the major league color line, Acting Commissioner Bud Selig announced that never again would Robinson's uniform number "42" be worn by a major or minor league player. The only exception to the mandate was that players who were already wearing the number would be allowed to keep it until the end of their careers.
Meanwhile …
Just two days before Jackie Robinson's number "42" was retired, a 21-year-old golf phenom named Tiger Woods won his first major championship, the Masters Tournament. Woods, who shattered numerous records en route to the victory, was the youngest person ever to win the Masters and the first African-American and Asian to win a major golf tournament.