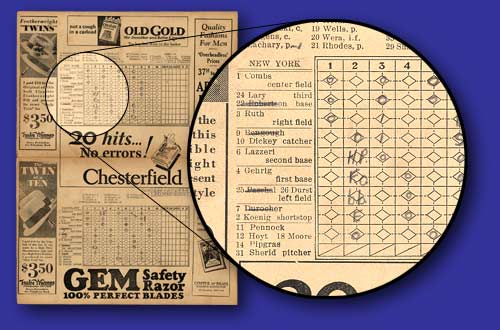 Scorecard from 1929, the first year
Lou Gehrig wore uniform number "4"
On June 19, 1939, Yankees slugger Lou Gehrig was diagnosed with ALS (amyotrophic lateral sclerosis), a progressive and fatal motor neuron disease. A few weeks later on Independence Day, the New York Yankees staged "Lou Gehrig Appreciation Day." It was at that special event that the "Iron Horse" uttered the now infamous words, "Today, I consider myself the luckiest man on the face of the earth." That same day, the Yankees retired Gehrig's uniform number "4," ensuring that no member of the Yankees family would ever again wear the honored number. Since that time, well over 100 major league uniform numbers have been retired.
Meanwhile …
On June 6, 1939, two teams of boys from Williamsport, Pennsylvania, met in the first-ever Little League baseball game. On that day, Lundy Lumber defeated Lycoming Dairy, 23-8. Just three teams played in the local league that year, but the program quickly grew. Today, Little League Baseball is the largest organized youth sports program in the world with close to 200,000 teams in over 100 countries worldwide.