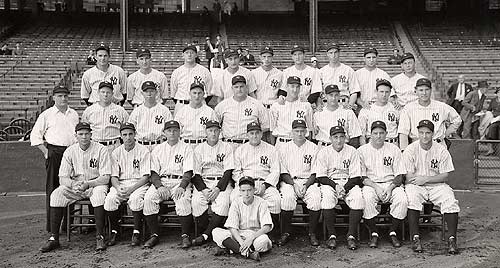 The New York Yankees of 1936
Though the New York Yankees first wore an interlocking "NY" logo on their shirt front in 1905, the logo design was significantly different from the one commonly associated with the "Bronx Bombers." It was not until 1936, two years after Babe Ruth last played with the Yankees, that New York donned jerseys with the interlocking "NY" logo that is now familiar to baseball fans everywhere. With only minor alterations, the Yankee uniform design has remained constant since that time.
Meanwhile …
The 1936 Olympics were highlighted by the astounding performances of Jesse Owens. Owens won gold medals in the 100-meter dash, 200-meter dash, long jump, and 4x100-meter relay. The silver medalist in the 200-meter dash was Mack Robinson, older brother of future baseball great Jack Robinson.