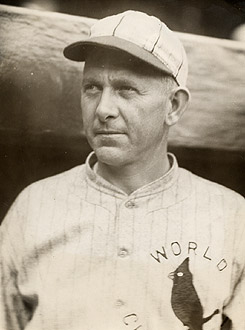 St. Louis Cardinals pitcher Jesse Haines, 1927
The St. Louis Cardinals' defeat of the New York Yankees in the 1926 World Series brought St. Louis its first World Championship since 1886. The following season, the Cardinals donned uniforms boasting of their laurels. This self-promoting uniform style was first introduced by the 1906 New York Giants and repeated by the 1921 Cleveland Indians. The Cardinals of 1927 were the last club to advertise their champion status on their shirt front.
Meanwhile …
In the early morning of May 20, 1927, Charles Lindbergh took off from Long Island in his specially made airplane, the "Spirit of St. Louis." Some 33 1/2 hours later, the courageous pilot landed in Paris, thus completing the first solo flight across the Atlantic and winning a $25,000 prize for his efforts. By the end of the 1927 season, another seemingly impossible feat was accomplished: Babe Ruth hit his 60th home run of the year, thus breaking his previous single-season record of 59 home runs.