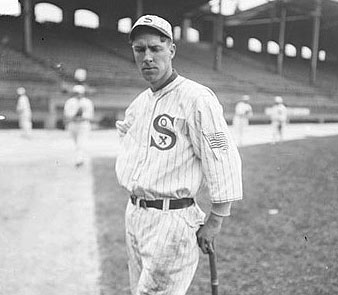 Chicago White Sox shortstop Swede Risberg, 1917
(Chicago Daily News negatives collection, SDN-061155. Courtesy of the Chicago Historical Society.)
On April 6, 1917, less than a week before the opening of the major league season, the United States declared war on Germany. In so doing, the U.S. formally entered World War I. In the wake of the country's involvement in "The Great War," five major league teams added patriotic imagery to their baseball uniforms for the season. Both the Chicago Cubs and White Sox adorned their jersey sleeves with U.S. flags. The Detroit Tigers wore the flag on the left sleeve of their road jersey, while the Brooklyn Dodgers displayed "Old Glory" on the chest of their home jersey. The Washington Senators chose to wear a shield of stars and stripes on their shirt front.
Meanwhile …
The 18th Amendment to the U.S. Constitution was submitted on December 18, 1917, and ratified one month later. The amendment, which prohibited the manufacture, sale and transportation of alcohol, ushered in the age of prohibition. From 1918 through 1933, when the amendment was repealed, there were no bars, no liquor stores and no beer at the ballpark.