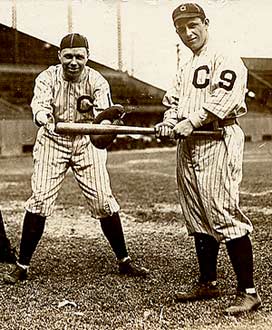 Uniform numbers as worn by members
of the Cleveland Indians, 1916
While the New York Yankees are often cited as the first big league club to don uniform numbers, the Cleveland Indians were really the pioneering major league team in this field. On June 26, 1916, the Indians took the field at League Park in Cleveland wearing large numbers on their left sleeves. The experiment lasted just a few weeks that season and, after a brief trial the following year, this time with uniform numbers on the right sleeve, the practice was abandoned altogether.