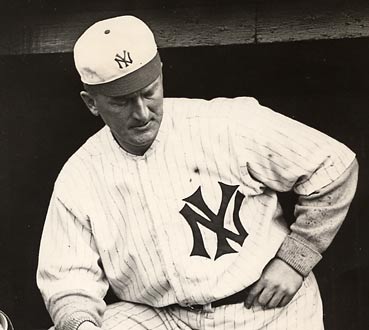 New York Yankees manager Harry Wolverton, 1912
An oft-told tale regarding the origin of Yankees pinstripes is that the club adopted the style in an effort to make a hefty Babe Ruth look thinner. However, the Yankees (at the time also known as the Highlanders) first wore pinstripes in 1912, nearly a decade before the "Bambino" joined the club. The striped uniforms were discarded for 1913 and 1914, but every season since 1915 the Yankees have featured uniforms with pinstripes.
Meanwhile …
On April 15, 1912, less than a week after the major league season had opened, the famed Titanic, the largest ship afloat, sank in the middle of the Atlantic Ocean. Five days later, the Washington Nationals (later known as the Senators) were to open their season at home, with President Taft scheduled to throw out the ceremonial first pitch, a tradition he had begun two years earlier. But due to the tragic accident, Taft and numerous other dignitaries were forced to cancel their appearance at the ballpark.