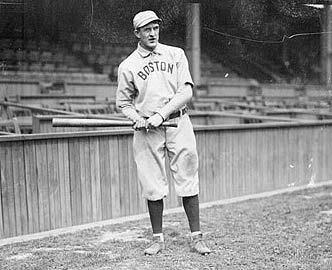 Boston Braves infielder Gus Getz, 1910
(Chicago Daily News negatives collection, SDN-055943. Courtesy of the Chicago Historical Society.)
Though popular throughout the 1880s and 1890s, the laced-front baseball jersey had all but disappeared by the turn of the century. By 1901, every big league club, except for the American and National league entries in Boston, had abandoned the style in favor of the now-familiar button-down jersey. By the end of the 1910 season, the laced-front uniform was retired from big league ball.