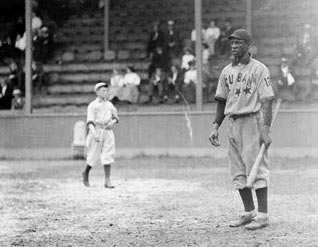 José Mendez of the Cuban Stars, 1909
(Chicago Daily News negatives collection, SDN-007852. Courtesy of the Chicago Historical Society.)
In 1909, the Cuban Stars, a barnstorming club comprised of top-notch baseball talent from Cuba, wore uniform numbers on their shirt sleeves. The only known photo of this early experiment with the numbering of ballplayers shows star pitcher José Mendez wearing number "12" on his left sleeve. A legendary Cuban ballplayer, Mendez was a member of the inaugural class of the Cuban Baseball Hall of Fame in 1939.