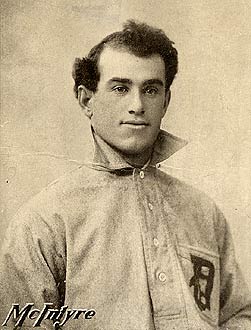 Detroit Tigers left fielder Matty McIntyre, 1904
The Old English-style "D" logo of the Detroit Tigers is the oldest major league motif still in use today. Though the fancy "D" had been used on the jerseys of the minor league Detroit Tigers of the Western League in the late 19th century, it was first used in the major leagues in 1904. The stylized initial has undergone various subtle changes over the years, but other than a handful of brief absences (1916, 1918-1920, 1931-1933, 1960), the Tigers uniform has featured the classic design either on its shirt front or cap ever since the logo's introduction.
Meanwhile …
Just a few months before the 1904 season opened, Orville and Wilbur Wright made their mark on history. At Kitty Hawk, North Carolina, on December 17, 1903, the Wright brothers became the first to achieve manned, controlled, powered, heavier-than-air flight. In August of 1921, less than 20 years after the historic flight, the Marysville Merchants of Marysville, California, became the first baseball team to travel to a game via an airplane, the Friesley Falcon airliner.