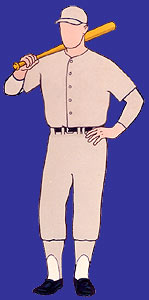 Hi. My name is "Dutch" Doerr and I've played big league baseball for many decades. I've worn lots of different baseball uniforms over the years … so many, in fact, that sometimes when I dress for a game, I have trouble matching the different parts of my uniform. Can you help me dress in the correct uniform? Select a clue below, flip the pages in my mix-and-match flipbook, and see how well you can do.

Clue #1: Times were tough during the Great Depression. The club I played for, the Boston Braves, went bankrupt. When new owners purchased the team, they hoped that a new nickname for the club would boost attendance. Can you put together one of the uniforms I wore during those few years that the Braves weren't called the "Braves?"

Clue #2: Just before World War I, I played for a club that experimented with a strange pattern on their uniform. The club's crosstown rivals, the New York Giants, also wore uniforms with a similar pattern. Both clubs gave up on the unconventional look after just two years. Can you put together this uniform?

Clue #3: In the 1970s I played with a club that was known for its numerous groundbreaking innovations. They were the first to play in an indoor stadium, the first to play on artificial turf, and when I played with the club, they unveiled one of the most unusual uniforms in big league history. Can you dress me in this colorfully striped uniform?

Clue #4: During World War II, lots of baseball clubs wore uniforms with patriotic coloring and imagery. Early in the war, I played for a club whose uniform definitely had those characteristics. Though we often finished near the bottom of the league standings, the eyes of the nation were often upon us. Can you put together this uniform?

Clue #5: During the Cold War, a powerful wave of anti-communist propaganda spread throughout the United States. At the time, I was playing for a club with a team nickname that was commonly associated with communism, and so in reaction to the anti-communist fervor, the club altered its name and removed it from the team uniform. Years later the club revived its original nickname. Can you dress me in the uniform I wore with that club?

Clue #6: When I played with the Athletics, team owner Charlie Finley decided to buck baseball tradition by introducing vibrantly colored uniforms. It certainly made our ballplayers stand out when the folks back home watched us on color TV ... and that was a big deal, because at this time color television sets first became affordable to most families.

Clue #7: I first began playing baseball with the Baltimore Orioles. While our home uniform was as plain as you could imagine, our road duds were quite unusual, featuring some of the first striped stockings ever worn in the big leagues. Perhaps the unique uniform was an eyesore for local fans, because just two years later the club moved to New York. It took more than 50 years before big league baseball returned to Baltimore. Can you dress me in that unusual Orioles road uniform?

Clue #8: One of the most popular movies of 1993 was Sleepless in Seattle, starring Tom Hanks and Meg Ryan. Meanwhile, I was playing ball with a club whose uniform could have been nicknamed "Sleeveless in Miami." Our club wasn't very good, but our uniforms revived a jersey style that was last seen in the big leagues in the early 1970s. Can you put together the uniform I wore that season?

Clue #9: There are lots of baseball clubs that have animals as their nickname—the Cubs, Blue Jays and Tigers all come to mind. The club I played for in the early 1920s was also named after an animal, and they first wore jerseys adorned with an image of the animal while I was with the club. The design on their shirt front proved so popular, that they still wear it today. Can you dress me in the uniform I wore with that club?