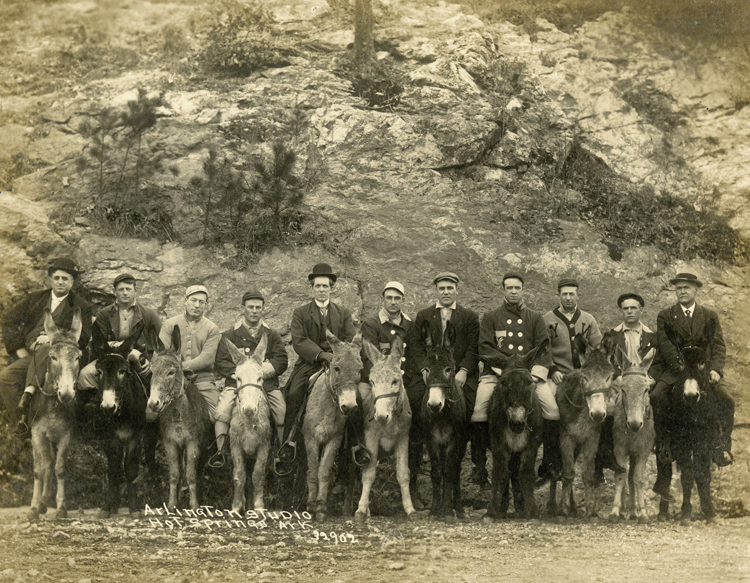 Highlanders at Happy Hollow
A group of New York Highlanders gathered in Hot Springs, Arkansas in late February of 1908 to thaw out and get back in shape before reporting to their regular spring training camp inAtlanta,Georgia. Teams had been coming to enjoy the benefits of the warmer climate and the thermal baths since 1886 when the Chicago White Stockings first trained in the city. The baths, exhibition games, practices, callisthenics and climbing in the Ouachita Mountains became part of the players' regular routine. In the evenings, they engaged in social activities offered by the spa's elegant hotels attending balls, concerts and theatrical performances. Players also availed themselves of other local amusements including gambling establishments, pool halls, an alligator farm, and a race track.
This photograph was taken at Norman McLeod's Happy Hollow amusement park. A popular tourist attraction, the park contained a zoo with "cages of wild beasts and birds," and a shooting gallery where patrons aimed their rifles at targets made of glass bottles. Visitors could enjoy the park while riding in carts, wagons, or on the backs of burros, ponies or mules. The photographic studio in the park was known for taking humorous images of tourists posed in a bathtub, in the company of clowns or cowboys, or astride their donkeys.
From left to right (as shown): Charles C. Spink (publisher of the Sporting News), Jack Chesbro (pitcher), Red Kleinow (catcher), Kid Elberfeld (shortstop), Mike Regan (notorious Boston Red Sox fan or "Royal Rooter"), Jake Stahl (outfielder), Al Orth (pitcher), Bill Hogg (pitcher), Willie Keeler (outfielder), Clark Griffith (manager), and W.R. Joyner (Mayor of Atlanta, Georgia and President of the Southern Association's Atlanta team). Observant readers will note that the photographic studio mistakenly reversed the image in the printing process. This is most noticeable in the lettering on Keeler's sweater ("Y N" instead of "N Y").
Previous | "Field of View" Home