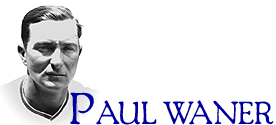 garnered his 3,000th hit by singling off his old teammate, Pirate hurler Rip Sewell, on June 19, 1942. Waner's membership in the 3,000-Hit Club was the first for a National Leaguer since Honus Wagner, 28 years before.
Two days after Waner's historic hit, White Sox hurler and future Hall of Famer Ted Lyons reaches a milestone of his own, garnering his 250th career victory.
1942 was also the first full season in the major leagues for the next member of the 3,000-Hit Club: Stan Musial.
Paul Waner's 3,000th Hit
Date: June 19, 1942
Location: Braves Field, Boston
Club: Boston (NL)
Opponent: Pittsburgh (NL)
Pitcher: Rip Sewell
Hit: Single
Total career hits: 3,152