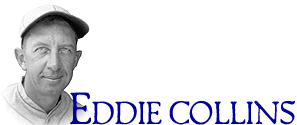 collected his 3,000th career base hit by singling off Detroit pitcher Rip Collins, June 3, 1925. At the time, Collins was player-manager of the Chicago White Sox. Roaming centerfield for the Tigers that day was player-manager Ty Cobb, a fellow member of the 3,000-Hit Club. The event marked the first time that one member of the 3,000-Hit Club was present as another member joined the Club.
Coincidentally, another landmark moment in the history of baseball occurred just two days earlier, as Lou Gehrig began his streak of 2,130 consecutive games played by appearing as pinch-hitter for Yankee shortstop Pee Wee Wanninger.
The following season marked the big league debut of the next member of the 3,000-Hit Club: Paul Waner.
Eddie Collins' 3,000th Hit
Date: June 3, 1925
Location: Navin Field, Detroit
Club: Chicago (AL)
Opponent: Detroit (AL)
Pitcher: Rip Collins
Hit: Single
Total career hits: 3,314