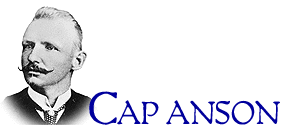 was the first major leaguer to reach the 3,000-hit milestone. He did so in 1897, his 22nd and final big league season.
In order to determine the date of a player's 3,000th hit, researchers need accurate day-by-day statistics. For 19th-century baseball, such materials no longer exist. Therefore, an exact date for Anson's milestone hit cannot be definitively established.
The same season that Anson collected his 3,000th hit, Louisville's Honus Wagner made his major league debut. Seventeen years later, Wagner joined Anson in the 3,000-Hit Club.
Cap Anson's 3,000th Hit
Date: unknown
Location: unknown
Club: Chicago (NL)
Opponent: unknown
Pitcher: unknown
Hit: unknown
Total career hits: 3,081*
*Official major league statistics verified by Elias Sports Bureau.