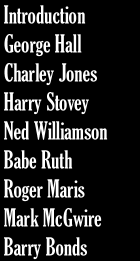 arry Stovey's record for most home runs in a single season didn't last long. The year after Stovey set the mark with 14, Chicago's Ned Williamson blasted 27 four-baggers! Here is the story behind the sudden surge in the long ball:

Beginning in 1878 Chicago's National League ball club played in Lakefront Park. The distances to the fences at the park were remarkably short: 196 feet to right, 252 feet to right-center, 300 feet to left-center, and 180 to left. In fact, the park was so small that special ground rules were used each year calling for balls hit over the short fences to be counted as doubles, not home runs … each year, that is, except for 1884. Not surprisingly, the Chicago ball club led the league in doubles every year from 1879 to 1883. Indeed, in 1883, Williamson slugged 49 doubles, a single-season record at the time. No doubt Ned was heavily aided by the Lakefront Park ground rules. In 1884, the special ground rules were suspended and the Chicago club clouted 142 home runs. This more than quadrupled the old major league record for home runs by a club in a single season (set the previous year by Cincinnati of the American Association with 35). Each of the top four home run hitters of 1884 were members of the Chicago ball club.

Williamson's 27th and final home run of the 1884 season came in Chicago's season finale. Ned homered in the first inning as Chicago jumped out to a 4-0 lead over visiting Philadelphia. In the seventh inning with the score favoring the hometown club, 12-3, Chicago's John Clarkson hit a foul ball onto Michigan Avenue. The search for the ball proved fruitless and, as it was getting dark and no other ball could be found, the game was called. In 1884, Ned Williamson also became the first major leaguer to hit three home runs in a single game when he clouted a trio of four-baggers against visiting Detroit on May 30th. Later that year Cap Anson and Jack Manning would duplicate the feat, each doing so in the "friendly confines" of Lakefront Park.