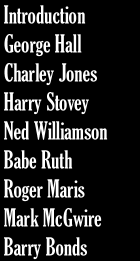 or years, Babe Ruth's 1927 record of 60 home runs withstood the challenge of many a mighty slugger. Hack Wilson, Jimmie Foxx, Hank Greenberg, Johnny Mize, Ralph Kiner, Willie Mays, and Mickey Mantle each finished seasons within ten or fewer home runs of breaking Ruth's record. None of them could equal the Babe's mark. In 1961, however, things would change.

As had occurred back in 1927, two Yankees pushed each other in the home run race. The 1961 version of Ruth and Gehrig was the duo of Roger Maris and Mickey Mantle, a pairing that had already won three of the last five American League MVP awards. Mantle's home run stroke was hot from the very beginning of the season, as he hit nine home runs in the Yankee's first eighteen games. Maris, on the other hand, was still looking for home run #4 with the season already well over a month old. But Maris soon found his groove and by mid-May both of the Yankee sluggers were in full swing of the home run chase.

On August 13th, with Maris homering twice and Mantle once, the Yankee duo sat at 45 home runs a piece, both ready to make a run at Ruth. Maris continued his hot-hitting, but Mantle went cold. Nevertheless, when Maris hit his 56th home run on September 9th, he and Mantle (with 52 home runs) broke the record for most single-season home runs by a pair of teammates. The old record was set back in 1927 by Ruth (60) and Gehrig (47).

Injuries to Mantle curtailed his pursuit of the record, and he was forced out of action for the last few games of the season. But Maris tied the Babe's record by hitting his 60th homer of the season on September 26, and had four games left in which to best Ruth's mark. However, it was not until October 1st, the final game of the season, that Roger would hit the record-breaking home run. With one out and the game scoreless in the bottom of the fourth, Maris pulled a 2-0 fastball from Boston's Tracy Stallard into the right field stands and thus pushed the single-season home run record to 61.