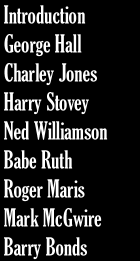 ince the founding of the National League in 1876, only seven men have held the coveted record of most home runs hit in a single major league season … just seven men. In 1998, two men passed the prior benchmark of 61 home runs, with Mark McGwire emerging as the home run champion with an astounding 70 circuit clouts. Three years later, McGwire's spot atop the list of single-season home run champions was overtaken by another mighty slugger: Barry Bonds. In this Short History of the Single-Season Home Run Record we delve into the archives of the National Baseball Hall of Fame and Museum to relive the story behind the record-setting clouts and the men who hit them.

Choose a ballplayer at left and learn more about his place in home run history.