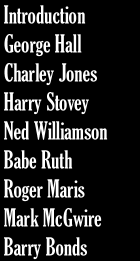 eventy home runs in a single season seemed an insurmountable number. 1999 saw Mark McGwire and Sammy Sosa both hit over sixty long balls, but no one came close in 2000 and it appeared that McGwire's record would enjoy a long life. The season of 2001 proved otherwise.

From day one of the 2001 campaign, Barry Bonds unleashed a relentless, all-out assault on the single-season home run record. With 11 home runs in April, 17 in May, and 11 in June, Bonds was off to a blistering start. Though he cooled down with just 6 roundtrippers in the month of July, Bonds returned to form with 12 home runs in both August and September. As the season entered the month of October, Bonds was sitting on 69 circuit clouts.

On Thursday, October 4, 2001, Bonds crushed a 450-foot blast off Astros rookie lefthander Wilfredo Rodriguez to match Mark McGwire's single season record of 70 home runs. Astros fans, despite assurance of their team's sixth straight loss, cheered wildly as the 37-year-old slugger jubilantly trotted around the bases, pounced upon home plate and pointed both hands to the sky.

Throughout the historic 2001 season, Bonds had always contended that the home run record would mean little without a play-off berth. The following evening, the Giants hosted the Dodgers with the pennant race on the line. San Francisco was in a must-win situation … a loss would end their hopes of post-season play. But the Dodgers were eager to play the part of "spolier" and jumped out to a 5-0 lead in the top of the first inning.

In the bottom of the first, Bonds tagged a 1-0 pitch from the Dodgers' Chan Ho Park for his record 71st home run of the season. In the third, Bonds once again punished a Park pitch for home run 72. The game was a wild slugfest that reached a 10-10 tie after six full innings of play. But the Dodgers pushed across a run in the top of the seventh, shut down the Giants for the final three innings, and thus spoiled the historic day for Bonds and the pennant-contending Giants.

Bonds' final home run of 2001 came on the final day of the season. Facing Dodgers knuckleballer Dennis Springer in the bottom of the first, Bonds deposited a 3-2 pitch over the right-field fence for home run #73. Though he had broken Mark McGwire's major league record days before, it was not until Bonds hit home run #73 that he could boast of having the all-time professional single-season home run record. The previous record for most home runs in a professional baseball season had been held by little-known Joe Bauman, a lefthanded-hitting first baseman for Roswell (New Mexico) of the Class C Longhorn League, when he hit 72 home runs in 1954.